The School is English Medium School Recognized By the department of education, Government of Maharashtra, affiliated to Maharashtra State Board of secondary and higher secondary education.
As a member of Indian Public school conference, it provides a liberal all round education, which enables students to take with confidence the Union Public Service Commission examinations for admission to the National Defense Academy (NDA) Khadakwasla Pune. Compulsory NCC training & defense studies as school subjects, motivates and prepares boys for career in defense forces.
In all sections, stress is laid on co-relating the work in the classroom with the common& essential needs of the growing child. Field tips & Excursions are organized to centers of farming, industrial production, countryside& historical forts for getting in touch with nature and for understanding the aspirations of the community at large.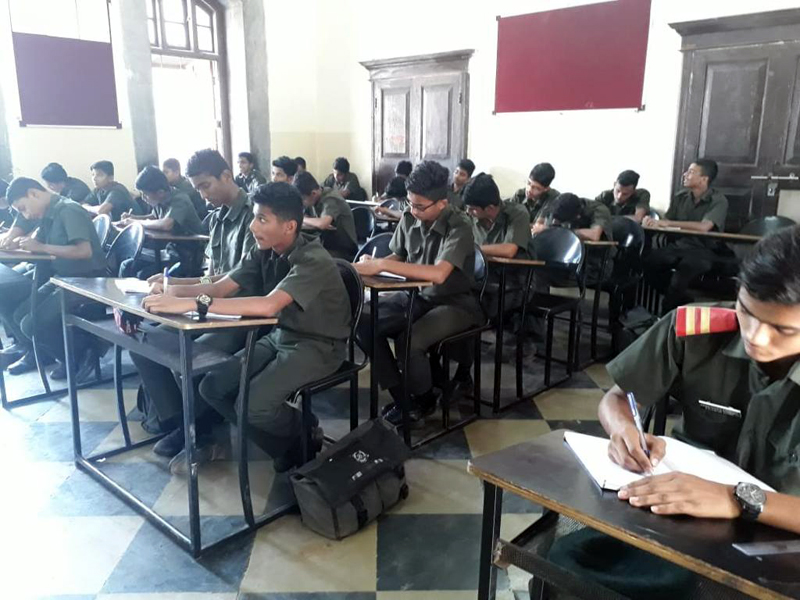 The academic year normally begins on 15th June and ends on 30th April.
The school year is divided into two terms First term from June to October and second term from November to April.
The secondary section has classes from Std V to Std X affiliated to the Maharashtra state board of secondary education. The principal guided by the management committee monitors the school routine. The staff of 25 teachers and supervisors are entrusted the task imparting education to the student.
In Secondary section
Pledge, Preamble of Indian constitution, Importance of the day, daily, news are read in assembly for updating current events among the students.
The language faculty organizes prose and poetry recitations, handwriting competitions for talented students and also provides remedies for improvement in handwriting and correct usage of grammar in languages.
The science and social studies faculties open the doors of curiosity for students by taking them to metrological department in pune, ICUAA in Pune University & exhibitions the student take part in various projects.
Members of each faculty organize Quiz Competitions for students in the assembly hall with the view of relating the subject to experiences in everyday life.
S.S.P.M.S is one of the very few institutions where defence study is taught from std IX to std X This subject gives the basic knowledge about the Indian armed Forces the ways and means by which cadets can join the Indian Armed Forces. The Cadet are also taught about the composition and the structure of the Indian Armed Forces.