E-learning Facility:-
Every class is equipped with interactive board, computer, speakers, projector and an IRISPen. Lessons plan activities, videos and quizzes are loaded for each class and every subject in the computer. Every teacher has to plan his lesson on a computer in control room and execute the same in his classroom. Teachers have access to internet and can download the related information and share it with students.
Computer Laboratory:-
Computers are playing an increasingly important role in education for the students as well as the teachers. Their use enables each student to progress at his own pace thus making the whole learning process more flexible. The Primary advantages of computers are the amount information that occurs via wide range of data basis. Today's children are immensely interested and fascinated by computers and idolize it leaders like Bill Gates – Microsoft Founder and Narayan Murthy – Founder of Infosys.
In Order to train the students in this fast changing IT field, SSPMS School has a well equipped state of the computer laboratory. All the machines have the latest software and operating System installed.
The Computer Subject related to curriculum taught in the classes is highly advanced, with subject knowledge on the latest software.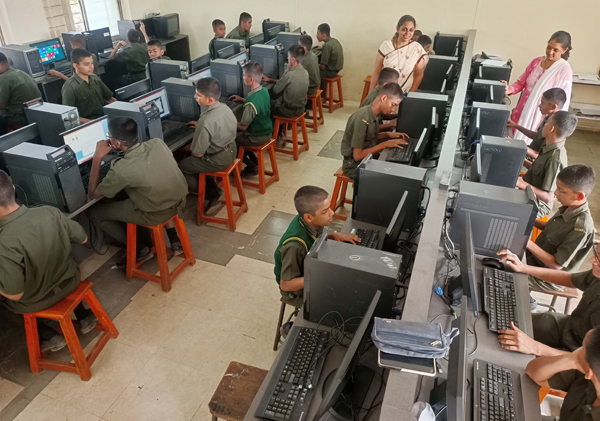 Science Laboratory:-
The School has laboratories for Physics, Chemistry, Biology and Computer science. The laboratories are well equipped with all types of instruments. The students are getting theoretical knowledge as well as practical knowledge.
Library:-
An Excellent library is maintained by the school. Daily Newspapers, Periodical's and magazines are available to update the latest news. It has a good collection of story books, reference books, novels, and fiction and nonfiction books. Each class is allotted one period in weekly timetable for issuing the books.
Guest Lectures:-
Guest Speakers have become an important part of the educational experience for the students. They expose students to real world life experiences from the position of someone who has been there. Our most of the ex-students are from armed forces and they motivate the students to join the armed forces by giving the guest lectures in the school.